Building a Better Future
The North Atlantic States Regional Council of Carpenters (NASRCC) represents over 28,000 carpenters, pile drivers, shop & millmen, and floorcoverers working in New England and New York state. There are over 1,500 active contractors who have signed agreements with the NASRCC, and more are signing every day.
We believe that well-paid, well-trained carpenters mean well-made, safe and long lasting construction that will serve the community well over time.
NASRCC is part of the United Brotherhood of Carpenters, one of North America's largest building-trades unions, with nearly a half-million members in the construction and wood-products industries.
We stand strong for our signatory contractors and help them succeed in today's marketplace by supplying them with motivated, knowledgeable crews that demonstrate skills, productivity, and a strong work ethic.
We advocate for all working carpenters, whether they belong to the union or not. All workers deserve fair wages, benefits, and safe working conditions. Additionally, all contractors should be able to compete on a level playing field, where everyone plays by the rules. When a few unscrupulous contractors get away with dishonest business practices, if effects the entire industry. NASRCC is committed to maintaining area standards across the construction industry.
The Carpenters Center
The Carpenters Center, located at 750 Dorchester Avenue in Boston, is the headquarters of NASRCC and the Boston Carpenters Training Center. The 70,000 square foot facility represents all aspects of the Carpenters Union – member representation, training, organizing, funds information, banking services, and a vision center. It is a member-built facility to provide services for our members.
The design of the building celebrates the history of the Carpenters Union and the pride of the organization's members. The bold use of colors, wood, metal and glass, and the very open interior reflects the organizational ideals. The Carpenters Center celebrates the rich history of the Carpenters Union while showcasing the training programs that keep the organization at the forefront of the ever-evolving construction industry.

It's easy to get in touch!
Explore Our Work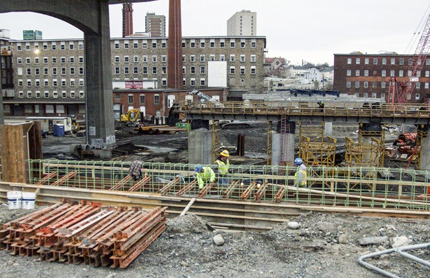 browse projects by industry:
browse projects by region:

Sisters in the Brotherhood | Becoming a Union Carpenter