Posted by
on
Mailing a check to pay your dues?
Finding time to stop by the hall?
FORGET IT!
The union and the benefit funds are helping make paying monthly dues easier. Complete an authorization card by September 30 and you can have next year's monthly dues paid automatically from your vacation check!
Fill the card out just once. Every year, as long as you have a $400 minimum balance, the New England Carpenters Benefit Funds will deduct your monthly dues for the following year from your vacation fund balance and forward them directly to your local union. You'll get the rest of your balance in a check, the same way you always have.
Authorization cards for dues payment from your vacation fund are available from carpenter stewards, local union halls, training centers or the benefit funds office in Wilmington. They can also be downloaded here. Completed cards can be returned to local union halls or the benefit funds office in Wilmington.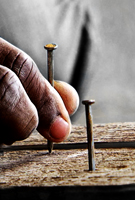 Featured Posts: